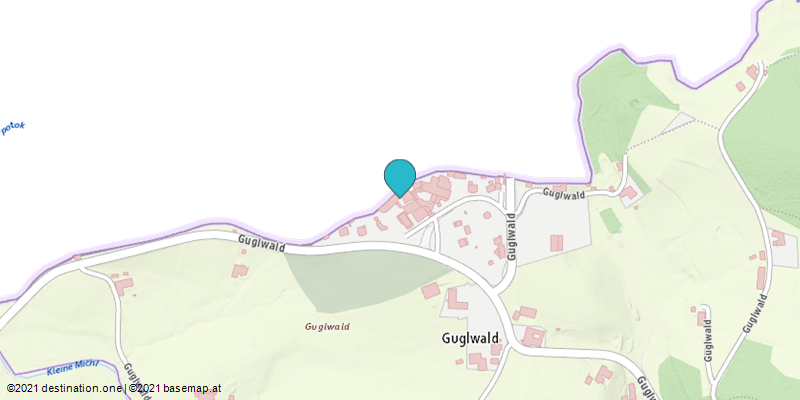 Hotel Guglwald****s
Special features
Wifi (free of charge)
Sauna
(Outdoor) swimming pool
Indoor pool
Barrier-free
Non smoking room
... for a unique nature, culinary delight, and holiday experience.

Feeling comfortable, treating the body to wellness and refuelling on new energy: Hotel Guglwald****s has pure lifestyle in store for its guests. From exclusive suites to the stylish-elegant wellness area with the ATRIUM sauna area to the Guglwald Kulinarium for gourmets, there is no shortage of luxury. An abundance of offers all around relaxation and physiotherapeutic treatments top off the perfect wellness programme.

Prices
Single room: From € 86,00 To € 118,00 (per person/Night)
Doubleroom: From € 91,00 To € 123,00 (per person/Night)
Junior suite: From € 121,00 To € 153,00 (per person/Night)
Suite: From € 169,00 To € 201,00 (per person/Night)
General price information:
Enjoy romantic evenings in the beautiful environment of our stylish suites and rooms. You can choose between our noble Residenz rooms, the quaint Leiterwagen (handcart) suites, the new Guglwald suites or the modern Schlössl (castle) rooms - we have the right room for every taste guaranteed.

Rooms & suites for € 91.- per person/night (season A).
Further information at www.guglwald.at, Phone: 07219/7007 or rezeption@guglwald.at.

Payment methods

Visa

Mastercard

Debit card
Discounts
Discounts (Age-related / Groups):
Discounts (Memberships)
Other discounts:
Discounts for employees of gespag, the state of Upper Austria, Internorm, Sparkasse and Wimmer Medien.
Unterkünfte