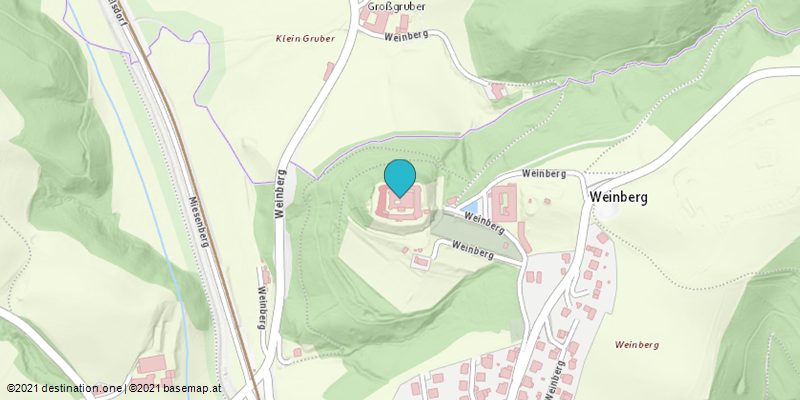 Weinberg Castle
Special features
All weather
Suitable for groups
Weinberg castle is located on a typical hill of the Mühlviertel region.

Weinberg Castle is one of the mightiest citadels of Mühlviertel Region. Its most impressive possession is the enormous ring wall. Two gates give access to the castle. The ward runs along the castle walls. A deep moat separates the castle from the outside. In the courtyard is an old, very deep draw well. The castle halls are named after their former usage - there is a so-called Ancestors´ Hall, a Knights´ Hall, an Emperor´s Hall and a Fable´s Hall.
Since the most successful Upper Austrian Provincial Exhibition in 1988 (Nature-Culture-Life), which attracted more than 400,000 visitors, the castle is run as a federal educational centre and offers courses and seminars all through the year. (Full-board service is available - 36 rooms - 64 beds.) Please ask for the course program.
On the second weekend of December, the Castle plays host to the annual "Weinberg Advent Market". This seasonal 3-day event is highly acclaimed and each year draws hundreds of people from far and near.

Opening Times: The Castle is open year-round
Guided tours are arranged by appointment

Daily for attendants of classes or seminars.
For visits (weekdays only) please call 07947-65450.

Payment methods

Visa

Mastercard

Debit card

Quick
Discounts
Discounts (Age-related / Groups):
Other discounts:
Groups of 10+

Schoolclasses

Travel groups

Guided tours are at Euro 1.10 per person.
Infrastruktur
Kefermarkt
Weinberg castle is located on a typical hill of the Mühlviertel region. Weinberg Castle is one of the mightiest citadels of Mühlviertel Region. Its most impressive possession is the enormous ring wall. Two gates give access to the castle. The ward runs along the...